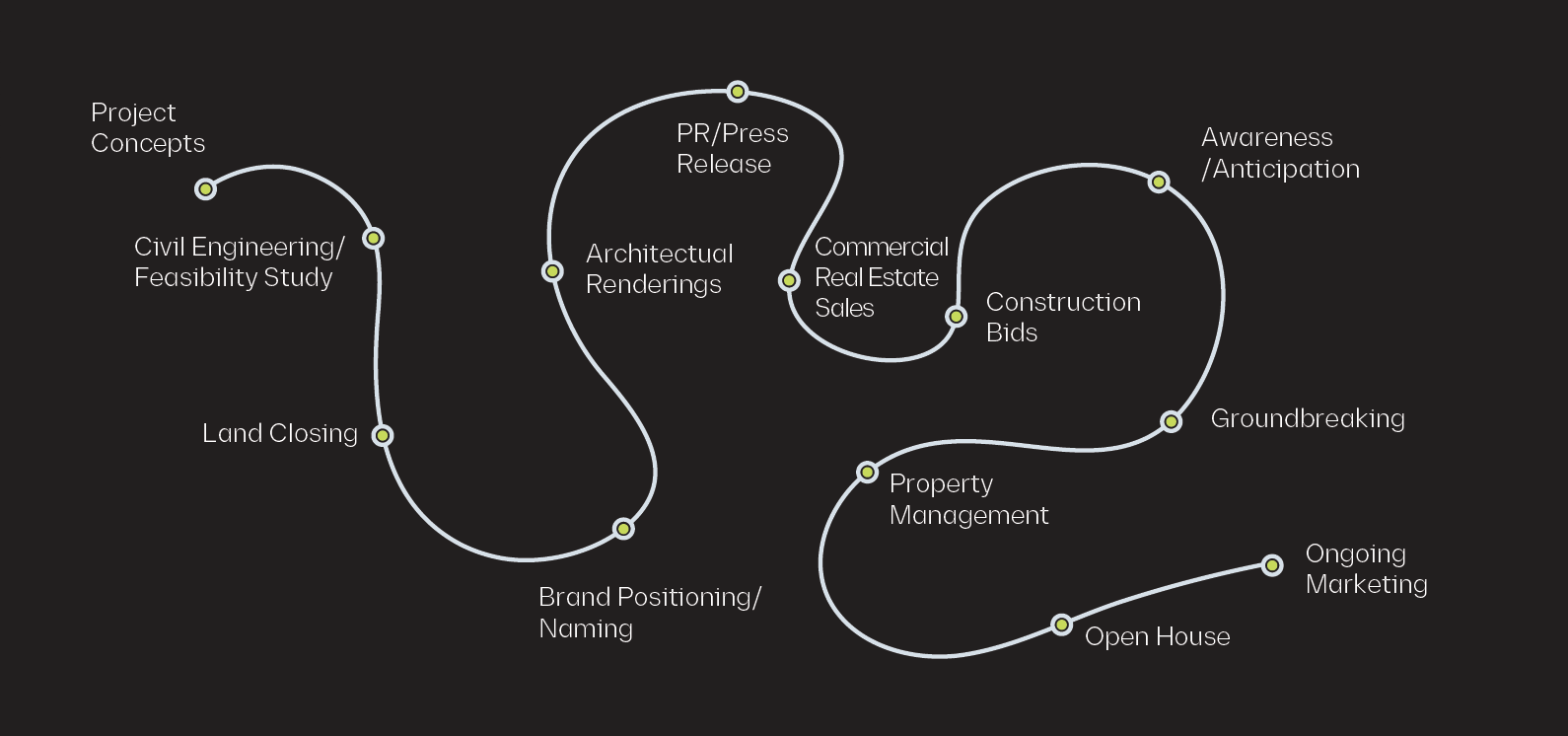 Project Life Cycle
There are a wide variety of hurdles along the life cycle of a project. We have the knowledge to navigate you through this process by connecting the dots and creating an affinity for your brand. Hitting those milestones will be key to building awareness and interest.
Traditional Approach Most Developers Follow
We engage our professional network to help us

We name it ourselves

We hire a local firm
The JMG Approach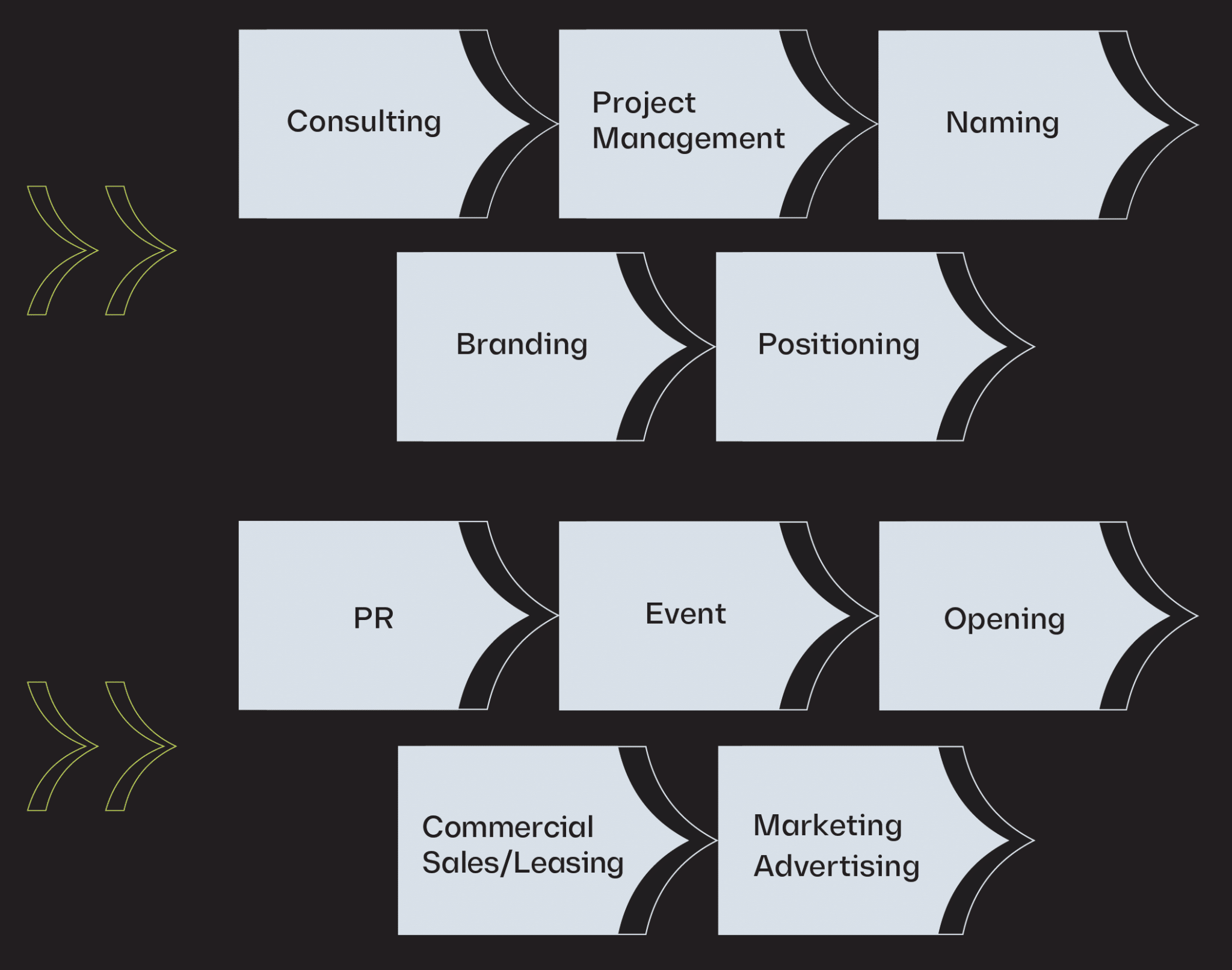 Time for a New Approach
Engage industry branding experts

Invest upfront

Have a strategy beyond this project
BrandGPS®
Most people struggle to explain what makes their business unique, and why their customers should care, Without confidently knowing how to answer these questions, they can waste a lot of time and money on ineffective efforts that aren't moving them closer to their goals. BrandGPS® is a comprehensive process developed by Longitude° to help you better communicate what it is you do, why you do it, and most of all – why it matters to your customers.
BrandGPS® gives your identity a purpose beyond just a pretty logomark or nice website. Great design informed by a great strategy is a recipe for growth and success in business. This workshop will help bring alignment to your words, actions, and visuals. It's a process meant to marry your marketing and operations, equipping you to be consistent in every business.
Brand Strategy & Positioning Session
Below is an example agenda for BrandGPS® – a full-day, guided workshop with our project team and client stakeholders.
Character & Attributes
Brand Persona
Guiding Principles
Brand Voice & Tone
Positioning & Messaging
Competitor Analysis
Customer Targets
Positioning Strategy
Brand Promise
Action Plan
100-Day Positioning & Implementation Action Plan
Post-workshop, we will deliver a document with a recap of the workshop session outcomes. After 60 days we'll check in with you and your team to ensure that the action plan is being executed and offer further support as needed.
Naming
The name you choose is one of the most important keys to your brand's success. Taking the time to develop a memorable, evocative, and truly distinctive brand name will provide you with a strong foundation for a successfully positioned brand in the market. Our comprehensive name development process will give you confidence in bringing your brand to market while checking all the boxes regarding what makes a name unique, memorable, and effective.
Step 1
Research
Conducting research about the property, surrounding area, geography, history, culture, trends, market, and more. All of which may inform the direction of the name.
Step 2
Ideation & Brainstorm
Our team will internally brainstorm an extensive list of names using a variety of naming methods, and present them to you for feedback.
Step 3
Name Evaluation
We'll evaluate the top 3-5 name recommendations and evaluate them against a number of criteria that will help us determine which name will be the best option.
Step 4
Preliminary Trademark Research
Working with a trademark attorney, we'll conduct preliminary trademark research on one (1) of the name options to determine if there is any chance for conflicts with future trademarking plans.
Brand Identity
Your visual design is often the first impression a customer will have of your business. People are prone to judge a book by its cover, so you need to make sure that your brand identity is telling the right story.
Design should never be an afterthought. It can be an extremely effective tool – used to attract attention,
differentiate your brand, create trust, and communicate your value.
We follow a process that produces a comprehensive and strategic visual toolbox. It lays the foundation for how your business should be presented visually so that you can execute with consistency for years to come, Creating these guidelines will allow you to put forth a unified, consistent image throughout all of your brand touchpoints.
Visual Identity System Deliverables
Brand Identity
The following elements will be included in your brand identity system. You will receive all final files in both raster and vector formats.
Primary Logomark & Wordmark (1)
Logomark Variants (2)
Supporting Identity Elements
Color Palette & Typography System
Brand Patterns
Photography Style
Texture & Material Considerations
Music & Playlist Considerations
Brand Standards Document
This is a document that outlines your strategy and identity in a clear, concise, and well-structured way. This can be used for internal clarity about choices related to operations, marketing, and more. The document will be delivered as a digital PDF and also two (2) perfect-bound printed copies.
Brand Strategy Overview
Key Messaging
Core Brand Identity
Usage Guidelines
Design examples
Two (2) printed hardcopies
Brand Collateral
These are elements of branding that occur in both the physical and digital worlds. Branded collateral pieces like these are important when positioning yourself in your market, and can draw more of your target customers to seek you out.
The synchronization of these collateral pieces paints a full picture of your brand and helps you maintain consistency both online and offline, which is key when creating memorable and impactful guest experiences.
Collateral Deliverables
You will receive all final digital files formatted to printer specifications. Up to 2 rounds of revisions are included.
Stationery

Letterhead and Envelope
Card and Envelope
Business Cards
Notepads/Books
Pens

Marketing Collateral

Pre-Listing Presentation Brochures
Magazine Ads
Welcome Packet/Package
Neighborhood Guide
Amenities Guide

Other

Construction Site Signs
Coming Soon Banner
Way-finding signage
Interior Signage
Exterior Signage
Uniforms
Nametags
Marketing Agency/PR Partnership
As your marketing agency partner, we will work with you to develop communication strategies to generate awareness about your company, as well as elevate the entire brand. Our team will then work to execute these strategies and tactics, ensuring that we're meeting your KPIs throughout the process. Our agency partnerships are truly that – a partnership between your team and ours. We'll be an extension of your team, on standby, to jump in on any new project or communication need that arises, all while executing your strategy and monitoring its success throughout the year.
We will accomplish this through:
Targeting your audience and persona development
Cohesive messaging and PR strategy
Content strategy
Event strategy
Determining and defining strategic tactics and strategic timelines
Identifying KPIs
You will also receive:
Press release strategy and execution

Website development

Social media strategy and management